PUBLISHED October 24, 2023
Vineyard Offshore's Excelsior Wind project selected as next wave of offshore wind in New York
October 24, 2023 – New York, NY and Copenhagen, DK:
Copenhagen Offshore Partners (COP), a global leader in offshore wind development and construction, is proud to announce the Excelsior Wind project has been awarded 1.3 gigawatts (GWs) in the latest solicitation for offshore wind power held by the New York State Energy Research and Development Agency (NYSERDA) in the United States. The project will be developed in the Vineyard Mid-Atlantic lease area (OCS-A 544) located in the New York Bight, located 24 miles off the coast Long Island. When complete, Excelsior Wind will provide clean and affordable energy for more than 700,000 homes in the New York City area, helping to avoid up to 1.1 million metric tons annually in carbon pollution, the equivalent to taking 225,000 cars off the road every year.
The Excelsior Wind lease area is owned by Copenhagen Infrastructure IV, a fund managed by Copenhagen Infrastructure Partners (CIP). COP will lead development activities for Excelsior Wind as part of Vineyard Offshore, CIP's offshore wind platform in the United States.
"We are honored that the Hochul Administration has selected our Excelsior Wind project and thank the Governor for her continued commitment to our industry," said COP Co-CEO and Vineyard Offshore CEO Lars T. Pedersen. "Excelsior Wind will provide clean and affordable energy, powering both economic growth and improvements in environmental and public health.  We are grateful that NYSERDA has placed their trust in our proven ability to deliver projects and look forward to continuing to work alongside local stakeholders across the Empire State." 
"This is an important milestone in our goal to deliver large-scale renewable energy and create thousands of new jobs for New York. We are excited to bring our expertise and experience from building Vineyard Wind 1, the nation's first commercial scale offshore wind farm, to the Empire State," said partner and Head of North America at CIP, Tim Evans. "I want to thank Governor Hochul and her entire team for forging a viable path forward for our industry and for New York."
Led by the most experienced offshore wind team in North America, Vineyard Offshore has crafted the proposals to ensure deliverability of the projects and their associated economic benefits to cement and sustain New York as a national hub of the offshore wind industry. 
The Excelsior Wind project is part of a 6 GW offshore wind portfolio in the US of which COP is leading development for through the Vineyard Offshore project company. In addition to the newly awarded Excelsior Wind project in New York, the portfolio includes the country's first commercial-scale offshore wind project, Vineyard Wind 1 in Massachusetts, and one of the first floating offshore wind lease areas off the northern coast of California.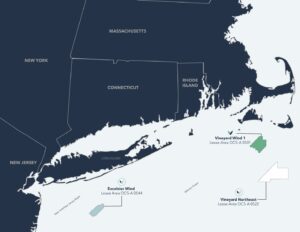 About Copenhagen Offshore Partners 
Copenhagen Offshore Partners (COP) is a world leader in offshore wind project origination, development, and construction. COP is accelerating the energy transition through development of a 50+ GW project portfolio, one third of which represents floating offshore wind. An industry pioneer, the group is leading project development in new markets, including four projects currently under construction – Changfang Xidao and Zhong Neng in Taiwan, Vineyard Wind 1 in the United States and Jeonnam 1 in Korea. COP also specializes in system integration capabilities, including power-to-x. The group's expert team are advancing projects across 17 offices in Europe, Asia Pacific, and the Americas. COP is a proudly independent company owned by its management. Learn more at www.cop.dk.
About Vineyard Offshore 
Vineyard Offshore is leading the development of two lease areas in the Northeast, in addition to a recently acquired lease in Northern California, OCS-P 0562. Lease area OCS-A 522, known as Vineyard Northeast, is located off the coast of Massachusetts. OCS-A 544, known as Vineyard Mid-Atlantic, is located in the New York Bight. All three lease areas are owned by funds managed by Copenhagen Infrastructure Partners (CIP). Combined with its joint venture development of the first-in-the-nation offshore wind project, Vineyard Wind, now under construction, Vineyard Offshore has the potential to develop more than 6 gigawatts of clean, renewable and affordable energy on the East and West Coasts of the United States.  To learn more, visit: www.vineyardoffshore.com. 
About Copenhagen Infrastructure Partners
Founded in 2012, Copenhagen Infrastructure Partners P/S (CIP) today is the world's largest dedicated fund manager within greenfield renewable energy investments and a global leader in offshore wind. The funds managed by CIP focuses on investments in offshore and onshore wind, solar PV, biomass and energy-from-waste, transmission and distribution, reserve capacity, storage, advanced bioenergy, and Power-to-X.
CIP manages ten funds and has to date raised approximately EUR 26 billion for investments in energy and associated infrastructure from more than 150 international institutional investors. CIP has approximately 400 employees and 12 offices around the world. For more information, visit www.cip.com.