PUBLISHED December 30, 2022
Copenhagen Offshore Partners to lead project development activities for newly awarded 500MW Fengmiao offshore wind farm in Taiwan.
Global offshore wind development leader expands project pipeline in Asia following Taiwan Round 3 Zonal Development Offshore Wind Auction win.
Taipei, Taiwan – December 30, 2022
Copenhagen Offshore Partners (COP) will lead project development activities for the 500 MW Fengmiao offshore wind project which will be located approximately 35km off the coast of Taichung in central Taiwan.
The news follows from an announcement that the Fengmiao project, owned by Copenhagen Infrastructure Partners (CIP) through its fund Copenhagen Infrastructure IV (CI IV), has been awarded capacity in the first round of Taiwan's Round 3 Zonal Development Offshore Wind Auction with grid connection in 2027. CIP is the world's largest dedicated fund manager within greenfield renewable energy investments.
"We are incredibly excited to be leading development for the Fengmiao project in Taiwan," said Claire Lohan, Fengmiao Project CEO. "We look forward to continuing our close work with the Taiwanese government and local leaders and stakeholders to support the delivery of Taiwan's net zero ambitions."
"The development of the Fengmiao project will build on Copenhagen Offshore Partners already strong track record for project delivery in Taiwan, and demonstrates our ongoing commitment to the Taiwan market and the industrial goals of the Taiwanese government" said Jesper Krarup Holst, COP Partner.
As the exclusive offshore wind development partner to CIP, COP will develop the Fengmiao offshore wind farm with construction works expected to commence in 2025 and commercial operations expected for 2027.
COP has led offshore project development activities for CIP projects in Taiwan since 2017, including the 595MW Changfang and Xidao offshore wind farms and the 298MW Zhong Neng offshore wind farm in partnership with China Steel Corporation (CSC), which are both under construction and anticipated to meet commercial operation dates scheduled in 2024 and 2025. The Fengmiao project is part of COP's growing 50GW offshore wind development pipeline around the world.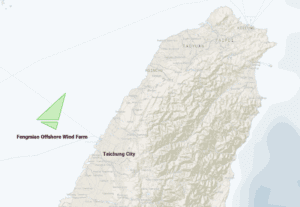 About Copenhagen Offshore Partners
Copenhagen Offshore Partners (COP) is a world leader in development and construction of offshore wind projects with a 50GW project development pipeline and a track record of successfully taking projects through the most difficult phases and delivering per plan. COP works exclusively for one of the leading green infrastructure fund managers in the world, Copenhagen Infrastructure Partners (CIP), which has raised Euro 19 billion to date from more than 120 international institutional investors worldwide. COP is developing projects in Europe, Asia Pacific, and North America, and is supported by its headquarters in Denmark and offices in the United Kingdom, France, Germany, Greece, Brazil, Italy, Taiwan, Japan, Korea, Vietnam, the United States, and Australia. COP is a proudly independent company owned by its management.