PUBLISHED January 16, 2023
Copenhagen Offshore Partners Expands Leadership Team in North America with Hire of Christian R. Scorzoni as Vice President
Scorzoni, a leader in the North American renewable energy industry, to head external affairs activities for group's US and Canadian portfolio.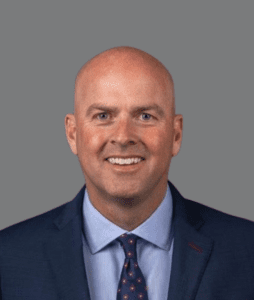 January 16, 2023 – Copenhagen:
Copenhagen Offshore Partners (COP) announced the expansion of its leadership team in North America with the hire of Christian R. Scorzoni as Vice President and Head of External Affairs for Vineyard Offshore. Scorzoni will lead policy development, regulatory and government affairs, and strategic communications for the group's offshore wind portfolio in the United States and Canada.
COP is leading development activities for more than 6GW of projects in North America as part of the Vineyard Offshore team, including Vineyard Wind, the United States' flagship project located in the northeast and which is slated to become the first large-scale offshore wind project in the country. COP's North American portfolio also includes two lease areas off the coasts of New York and Massachusetts and one of the first floating offshore wind lease areas off the northern coast of California.
"I'm thrilled to be jumping in full-time with one of the world's most dynamic and innovative energy companies in the offshore wind industry," stated Scorzoni. "COP is leading groundbreaking projects around the world, and I look forward to supporting their continued success in the North American market."
"We are incredibly proud to welcome Christian to our team," said Lars T. Pedersen and Henrik Scheinemann, Co-CEOs of Copenhagen Offshore Partners. "His experience and commitment to advance offshore wind in North America will be invaluable as we grow COP's bicoastal project development portfolio and continue to show vision and leadership to bring offshore wind to new markets."
Scorzoni has worked closely with COP and Vineyard Offshore since 2016, serving as a consultant to provide strategic counsel and government affairs support for Vineyard Wind. He joins the company following 13 years co-managing one of the leading renewable energy consulting firms in the Northeast United States. Scorzoni served as Assistant State Secretary in the Commonwealth of Massachusetts for the Executive Office of Energy and Environmental Affairs and he spent nearly ten years as Deputy Chief of Staff and Legal Counsel for a Massachusetts State Senator and Senate President.
About Copenhagen Offshore Partners
Copenhagen Offshore Partners (COP) is a world leader in development and construction of offshore wind projects with a track record of successfully taking projects through the most difficult phases and delivering per plan. COP is leading project development for a 50+GW portfolio of projects on behalf of Copenhagen Infrastructure Partners (CIP) in Europe, Asia Pacific, and North America. COP's development activities are supported by its headquarters in Denmark and offices in the United Kingdom, France, Germany, Greece, Italy, Taiwan, Korea, Vietnam, Japan, the United States, Brazil, Australia, and Aotearoa New Zealand. COP works exclusively for CIP, a leading green infrastructure fund manager, which has raised Euro 19 billion to date from more than 120 international institutional investors worldwide. COP is a proudly independent company owned by its management. Learn more: www.cop.dk