Make a difference and start your global offshore wind career

with one of the most experienced and

fastest growing

 development teams in the world.

 

 
The COP Global Graduate Program is an accelerated two–year learning and development journey designed to kickstart your global offshore wind career. Even if you don't know much about wind energy yet, we're eager to work with you if you have a passion for sustainability, are quick to learn, and are ready to make a commitment to be a part of our industry leading team.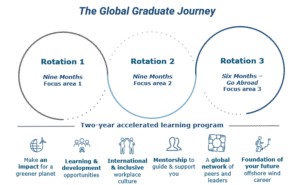 Diverse backgrounds encouraged to apply
We know the best teams are diverse in background and experience, and we therefore do not require previous experience in renewable energy or project development to apply. Our Graduates have professional and academic experience in government, business, finance, and even sales and consulting. Most importantly, we are looking for future team members who:  
Are motivated to make a difference for our planet as well as for our team.

Have just finished or are about to finish a

bachelor or master's degree and have no more than two years of work experience post-graduation. 

 

Have shown academic achievement. We welcome all educational backgrounds and ask that you

are able to demonstrate how your competencies and skills would apply to a role at COP.

Have big aspirations and a self-driven and entrepreneurial mindset.

 

Are collaborative, inclusive, and have a positive personality. 

 
What makes Our Global Graduate Program Unique?
Hear from two members of our 2022 Graduate class about their experience and how the program is preparing them for a career in offshore wind. 

What

you can expect as a COP

Global

Graduate

 

 
A culture of empowerment, responsibility, and trust
We strive to create a culture of empowerment by offering trust and responsibility from the moment you join our team. We are driven by a hands-on approach and we promote a growth mindset across all aspects of the business.

As a Graduate, you will get the opportunity to work closely with some of our most senior people on dynamic and fast-paced projects, where your experience and perspectives are encouraged and valued. You will stretch your skills and knowledge and will be continuously challenged, ensuring personal and professional development. 
A comprehensive 2-year rotation journey
The Global Graduate Program is a two-year development journey that encompasses 3 rotations across business functions and locations. 

You can expect your first two rotations to focus on building your toolbox across offshore wind development competencies. These two rotations last 9 months each and your office location and business function will be determined in advance. 

The third and last rotation will last 6 months.  Your location and business function will be determined collaboratively with your manager and team, with the goal to place you in a function and location based on where your expertise is best served.

Offshore wind development is complex and requires many different skills and functions throughout the project lifecycle. As a Graduate, you will have the opportunity to work within practice areas including technical development, engineering and package management, environment and consenting, supply chain and procurement, commercial and new market entry, bid and business case management, finance, and project management.  
A global network of colleagues and industry stakeholders
In addition to our multi-national business teams you will work with daily, you will also become part of our Graduate community. This includes Graduates that will start with you and also includes previous and future graduate cohorts who are also building their careers in this exciting industry. From the day your join our program, you will start building your international network across a trusted and supportive group of peers with whom you can share experiences and learn from. 
Investment in your personal and professional growth and development 
Throughout the two-year program we will offer you a blended learning experience, combining challenging assignments with structured training and development.  
To develop your potential, we will provide you with the necessary tools to help you better understand your own strengths and development areas.  
Below are some examples of the structured training and development you will experience: 
Personal brand & effective global communication 
As we are an expanding global business, we understand the importance of global collaboration, effective teamwork, and the ability to move fluidly within the evolving landscape of offshore wind development. As a Graduate at COP, we will provide developmental opportunities that allow you to master communication within diverse teams and build a high impact personal brand.     
Inclusive leadership 
We are on a mission to create the most diverse, equitable, and inclusive workplace, where everyone can thrive and grow. We are therefore investing in your early career and building your competencies to ensure we create a strong pipeline of inclusive leaders.  
Mentorship
You will have the opportunity to work with a dedicated mentor. Mentoring at COP is an informal relationship-based learning scheme and a powerful tool to enhance both personal and professional development. Through mentoring, you will be guided to reach your developmental goals, gain different perspectives on problems and issues, which will allow you to grow individually and within our team.  
At the end of the 2-year Graduate Program, you will be ready for a more expansive and challenging role within Copenhagen Offshore Partners. 
How to apply
The application period for the 2023 program has closed.
Successful candidates will start their 2023 Global Graduate Program journey on September 1, 2023.